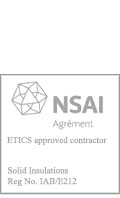 Video References
Customer References
We are delighted with the transformation of our house. The excellent work done by Solid Insulation has to be highly recommended. All the workers and staff are to be complimented on their skill and efficiency.
Patrick & Phill Hickey, Galway
091 755 926
---
I was very happy with Solid Insulation. Very good workers. Always on time and very reliable.
N. Noonan, Cork
086 0634010
---
We have no hesitation whatever in recomending Mark & Artur and his team of excellent workers. Besides the work ethic, they are so co-operative and open to all suggestions. Molly and I are so pleased that winters no longer hold any fears for us.
Claire Burke, Shantalla, Galway
089-4165791
---
I would recommend Solid Insulation to anyone who is intrested in getting their house done. Top quality work, with a fine detailed finish. Workers always on time, very neat and tidy.
---
I would highly recommend that team. We are very happy with the exterior wall insualtion on our house. The boys are good workers. Many thanks!
Ann Gallagher
086-3444669
---
I have recently had my house insulated by Solid Insulation. The transforamtion is just amazing. It's like a new house! The colour and choice is just amazing, also the mosaic around windows and doors just fantastic. The lads that did the job were so good, clean, polite at all times. 10 of 10 for everything.
Maureen White, Ennis
086 0634010
---
I got my house insulated with Solid Insulation in May 2011. I was really happy with the work. The workers were very reliable and trustworthy and I felt that I could go and leave the house without worring. I found the workers were very clean and tidy. They cleaned up every evening. I had absolute no cleaning to do when I came home, the house was spotless. I would have no problem recommending this company as I found their work was on a very high standard.
Joanne Cussak
087 9682523
---
Solid Insulation have just finished (March2012) insulating my house. We are more than pleased with the finished job. Even after just the insulation was fixed to the wall (no plaster yet) we could feel the differance all around the house. Before our house was insulated we would have the heat on for 5 or 6 hours and once we turned it off the house would be cold after 15min or 20 min. Now, we only put the heat on, an hour and our house stays warm for hours. You will not find a better firm of great workers to insulate your house.
Billy Smyth. 10 Colmans Rd.Shantalla, Galway
086-3511628
---
Excellent job and excellent workers. I will recommend them to anyone who wishes to contact me. The house is now 110 % wormer then before.
Margaret Lewis, Roscrea, Co.Tipperrery
087-9237889
---
I have no hesitation in recommending Mark and his company Solid Insulation as they did an excellent job on my house. I found his team good honest workers and excellent tradesmen. I was approached by other companies but they were no match to Solid Insulation. I wish Mark and his company every good wish for the future. If you want the perfect insulation Mark is your man!
Frank Cook, Corrib Park, Galway
091-522922
---