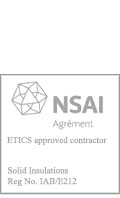 Grants
Eligibility
Everbody that owns and lives in a house that has been built before 2006, and hasn't previously recieved a grant for insulation of their home is eligible to do so now.
Our Sales Representative guide the customer through the application process for the Home Insulation Grant.
What grants are available?
Grants are available to eligible applicants for undertaking the following works, in accordance with the requirements contractor Code of Practice Technical Specification.
| Energy Efficient Measures | Grant Value |
| --- | --- |
| Attic / rafter insulation | €300 |
| Cavity wall insulation | €300 |
| Internal Insulation (Dry Lining Insulation) |   |
| Apartment (any) OR Mid-terrace house | €1,200 |
| Semi-detached OR end of terrace | €1,800 |
| Detached house | €2,400 |
| External Wall Insulation (The Wrap) |   |
| Apartment (any) OR Mid-terrace House | €2,750 |
| Semi-detached OR End of terrace | €4,500 |
| Detached house | €6,000 |
* Cash Grants are set-value unless expenditure is below the set value, in which case the actual expenditure will be reimbursed.
**A Building Energy Rating (BER) is an integral part of all grant applications under the Better Energy Homes scheme, whereby homeowners must undertake a BER on their home after grant aided works have been completed. A homeowner is entitled to BER funding of €50 once per home. This funding will be applied to your grant application automatically, provided you have never applied previously for BER funding. You will be informed of this during the online grant application.

Also there is another grant available ENERGY EFFICIENCY INCENTIVE WITH ELECTRIC IRELAND
Energy Efficiency Work
Cash Credits
Apartment
House
  Roof Insulation
€64
€104
  External Wall Insulation
€300
€472
  Intergrated Heating Controls
€188
€296
  High Efficiency Gas or Oil Fired Boiler with fully integrated central heating controls
€244
€616