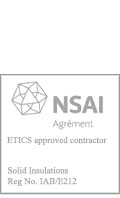 Dry Lining
Thermal 'dry lining' systems can be used to improve the insulation on internal walls, floors and ceilings. They are relatively quick and easy to install and often used on homes which have solid walls with poor insulation, or no cavity wall insulation, however they are also increasingly used on modern homes to further improve energy efficiency and reduce money lost on heating bills.
Some of the benefits of drylining are:
A warmer building - drylining has better insulating properties than solid plastering reducing heat loss and saving energy
Quicker and cheaper construction - the wall can be made more true and plumb using pre made drylining panels than could be achieved with solid plastering.
Quicker drying out times - because less water is used in drylining it is quicker to dry out than solid plastering and therefore quicker to start decorating.
The systems can also used to cover architectural features such as columns, arches, and beams or to cover unsightly features, or to provide a smooth finish to uneven walls.
A typical system consists of either metal stud or timber stud supports fastened to the original wall with thermal insulation inserted in the cavities. This is then covered with a top plasterboard.

A range of plasterboards can be used in Drylining:
Standard Plasterboard - a general purpose plasterboard suitable for most applications.
Acoustic Plasterboard - incorporates glass mineral wool for increased sound proofing properties.
Firecheck Plasterboard - incorporates glass fibres and other additives to give increased fire protection.
Impact Resistant Pasterboard - a high density plasterboard with glass fibres and additives used in high traffic areas.
Moisture Resistant Plasterboard - a plasterboard with water repellent additives used in wet areas such as kitchens and bathrooms.
Thermal Plasterboard - a plasterboard which has a layer of insulation bonded to it for increased thermal properties.
Once the new wall has been constructed they can either be skimmed or joint taped over the meeting boards joints to give the new wall a seemless flat high quality finish.